EDIT: Closed for the moment! Thanks everyone.
Hello all! Thank you so much for following this comic, it means a lot to me<3
I have an exciting announcement to make! I've decided to sell my original comic strips :) That's right, all of the strips have, in some way, started on a piece of paper, before scanning and continuing on Photoshop.
Note: The 1st strip up to the 192nd are inked traditionally, while the others are sketched (before I ink them digitally). Pages go up to 313.
If you're interested in buying some (awesome!!), here are the prices:
-1 Inked strip: 50$
-1 Sketched strip: 35$
Special prices:
-Buy 3 Inked Strips: 130$ (instead of 150$)
-Buy 3 Sketched Strips: 90$ (instead of 105$)
-Buy 5 strips (or more), get one free!
-Buy 10 (or more): get a fully pencilled original drawing of your choice+1 extra strip
SHIPPING: +7$ (or +5,5$ if you're in Belgium)
Still interested? Email me at gogetaroomie@gmail.com with your request! Once confirmed, you can send the money via paypal to the same email adress, and you will receive your strips in 2-3 weeks time!
Questions? Contact me by simply clicking on the "contact" tab up there. Or ask on my tumblr or twitter :)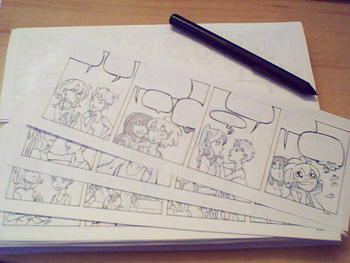 : Inked (page 163)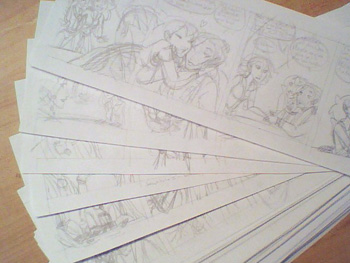 : Sketched (page 256)