News & Comments
posted 05-24-2013 at 12:00 am


Hey all!
No updates today, I just had a busy week getting everything organized, some technical difficulties happened where they shouldn't have, and now it's 6AM and we're getting ready to leave for Anime Boston!
We, as in, Yamino and I of course :) Hope to see some of you there!!!
View/Post Comments
---
Posted 2013-05-14 12:00
Hi all!

Just wanted to poke and tell you which conventions I'll be going to in the coming months:
Anime Boston: May 24-26 (along with Yamino from Sister Claire)

Philadelphia Comic Con: May 29-30 June 1-2 (along with Megan&Isa from Namesake, folks from Misfile and also Guilded Age creators)

ConnectiCon: July 11-14 (along with most of the Hiveworks studio!)
That's it for the moment! I will not have Roomie books to sell, I'm afraid, since they'll need more time to print than we originally thought, but I will have prints, charms, stickers, coasters, original strips and perhaps more goodies to sell as cons go.

I sincerely hope to see you :)
Comments
|
Add Comment
---
Posted 2013-04-12 12:28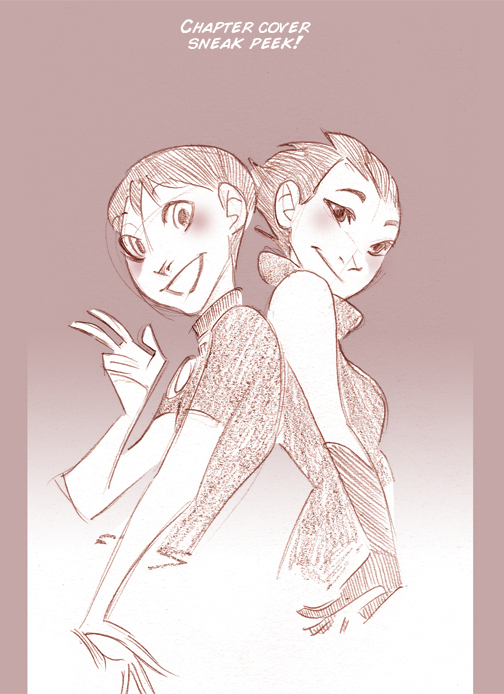 I'm travelling today so it's hard to get anything done, especially today's strip, so I'm throwing this little thing that is part of ONE of the 12 chapter covers in the Roomie book. I wish I could show you, like, everything, but I prefer knowing you discover them when opening the actual book :)
Cheers and thanks for everything!
Oh and, I've been getting super awesome presents from fans (DEATH STATUE JUST CAME IN AAAAAH<333) and I'll pimp them out next week (before going to the USA AAAAHHHH<333)
Excitement!
Great, instead of an actual comic, you get a blabbering Chloé. My bad, carry on! See you Monday!
Comments
|
Add Comment