Posted March 8, 2016 at 12:00 am
It's Women's International Day, whooo! Let's celebrate with Women Lady Bits in our porno comic! :D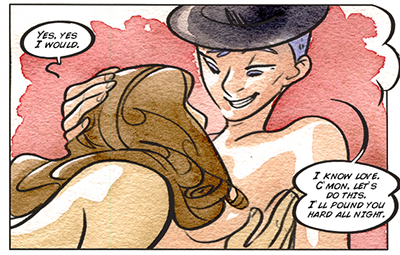 (The twins' older sister Kris, in her younger days with blue hair and an imaginary hat)
Les3 is the sexy story of Kris' love life and how she tries (and fails) to manage it. Her best friend Anael one day comes up with a 'simple' request of satisfying the needs of his new girlfriend. Kris, being the reasonable lesbian that she is, refuses.
Somewhat.
Not really.
The comic has recently updated on Slipshine with the first half of Chapter 4, the other half coming this end of the month! If you feel teased enough with 50+ pages of boobs, pussies and hints at the GGaR verse (with a splash of traditional colors from my companion), do subscribe there's so many other sexy-as-hell comics from other artists as well!!
And there's more to cum! We're working on a brand new one-shot comic for next month as well ;)
See you on the other side,
Chloé C.