Posted 2013-07-02 12:00
If you're interested in doing a guest strip (deadline from Juy 10th to the 13th, though it'll have a better chance at being accepted if done before Wednesday 10th):
Guest strip theme: Usually there are none. This time, I'd be interested in seeing new shenanigans going on at Jo's bar. Who's the trouble-maker this time? How does Jo react to it? Are axes involved? Are boobs? Did the bartender put rum again in his squirt-gun? Go wild with ideas! Most of them have probably already happened there.
There aren't any specific rules. I think some should be obvious by now, for example, no ultra-gory scenes or dialogue, no discriminatory comments, no magically naked Lillian poppin in.
As to format: no limit. My strips are 1100 px wide, and a minimum of 300 dpi for a high enough resolution. But go ahead and submit your own page format and I'll resize it if needed.
Send to roomie (at) chloe-art.com whenever you're ready!
Thanks for reading! Any questions, bring 'em on :)
Comments
|
Add Comment
---
Posted 2013-05-14 12:00
Hi all!

Just wanted to poke and tell you which conventions I'll be going to in the coming months:
Anime Boston: May 24-26 (along with Yamino from Sister Claire)

Philadelphia Comic Con: May 29-30 June 1-2 (along with Megan&Isa from Namesake, folks from Misfile and also Guilded Age creators)

ConnectiCon: July 11-14 (along with most of the Hiveworks studio!)
That's it for the moment! I will not have Roomie books to sell, I'm afraid, since they'll need more time to print than we originally thought, but I will have prints, charms, stickers, coasters, original strips and perhaps more goodies to sell as cons go.

I sincerely hope to see you :)
Comments
|
Add Comment
---
Posted 2013-04-12 12:28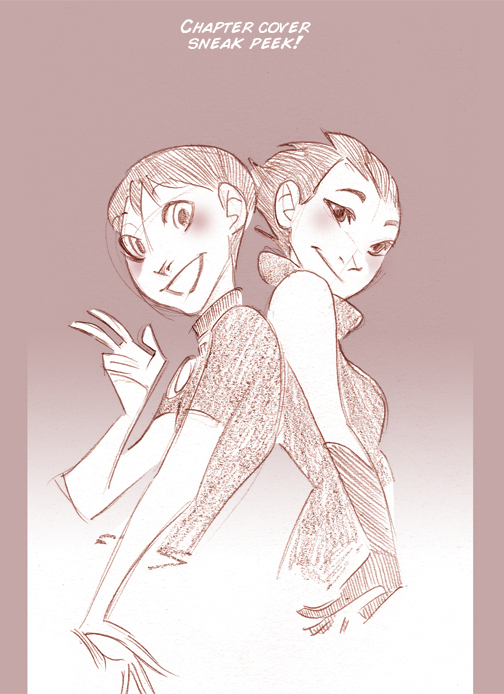 I'm travelling today so it's hard to get anything done, especially today's strip, so I'm throwing this little thing that is part of ONE of the 12 chapter covers in the Roomie book. I wish I could show you, like, everything, but I prefer knowing you discover them when opening the actual book :)
Cheers and thanks for everything!
Oh and, I've been getting super awesome presents from fans (DEATH STATUE JUST CAME IN AAAAAH<333) and I'll pimp them out next week (before going to the USA AAAAHHHH<333)
Excitement!
Great, instead of an actual comic, you get a blabbering Chloé. My bad, carry on! See you Monday!
Comments
|
Add Comment
---
Posted 2013-03-15 12:00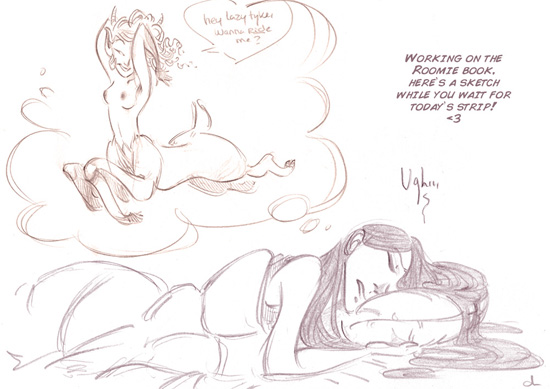 Roomie loves invading your dreams and filling them with sexual innuendos.
Thanks for your patience, I really want to make this book worth it.
Comments
|
Add Comment
---
Posted 2013-03-01 12:00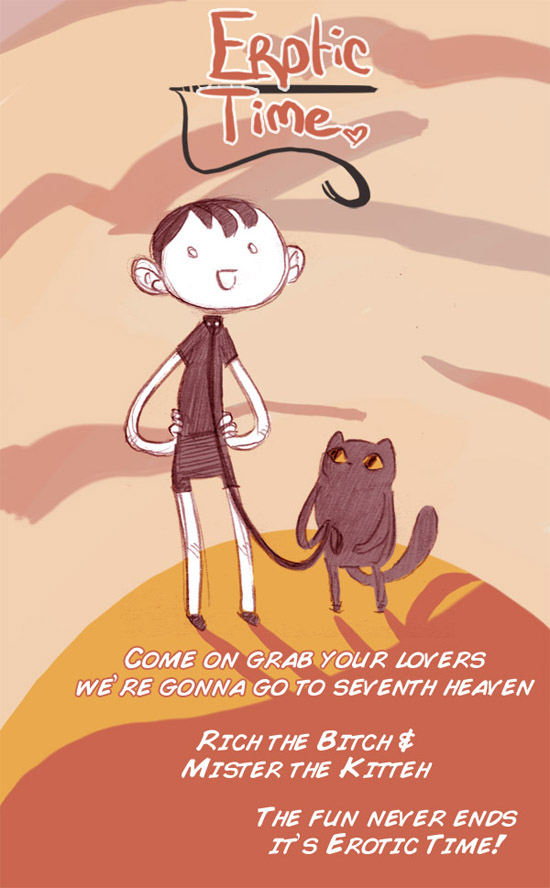 I'm working hard on the Roomie book (deadline's soon!) so I drew this instead so I can put more time in the soon to be book :) Enjoy!
Adventure Tiiiiime~
Comments
|
Add Comment